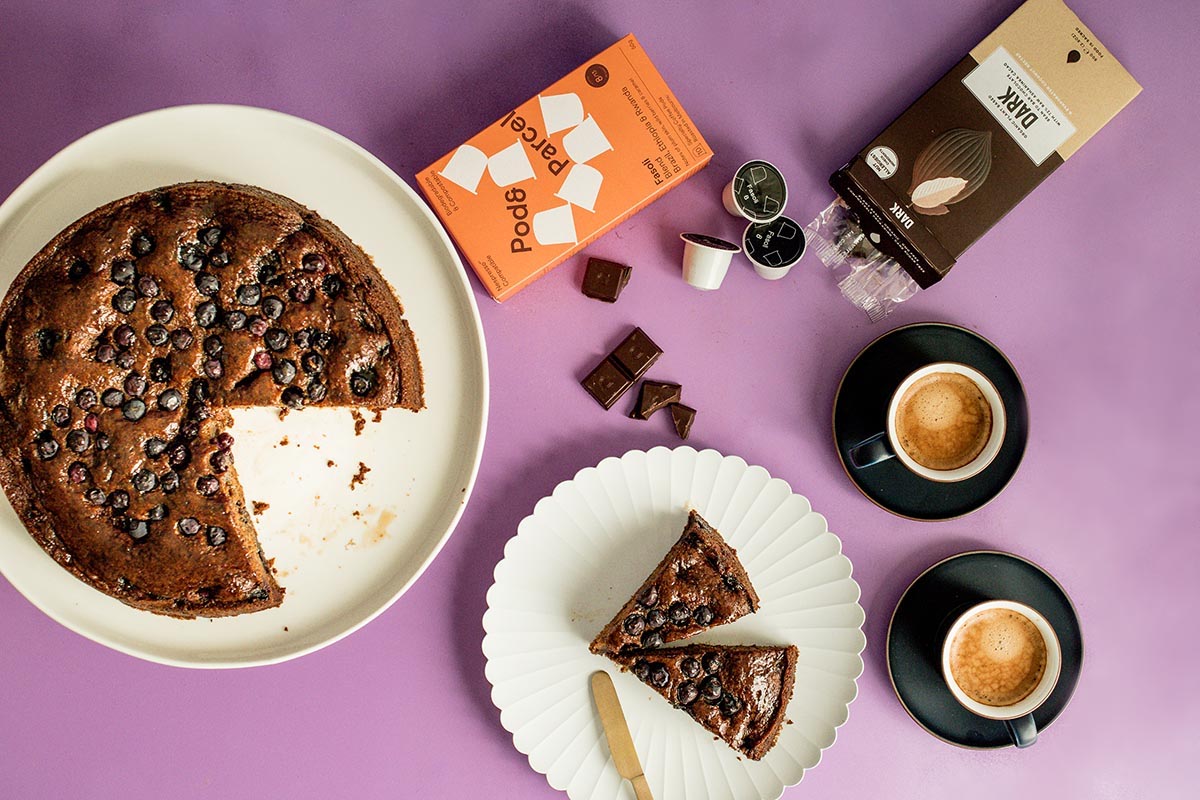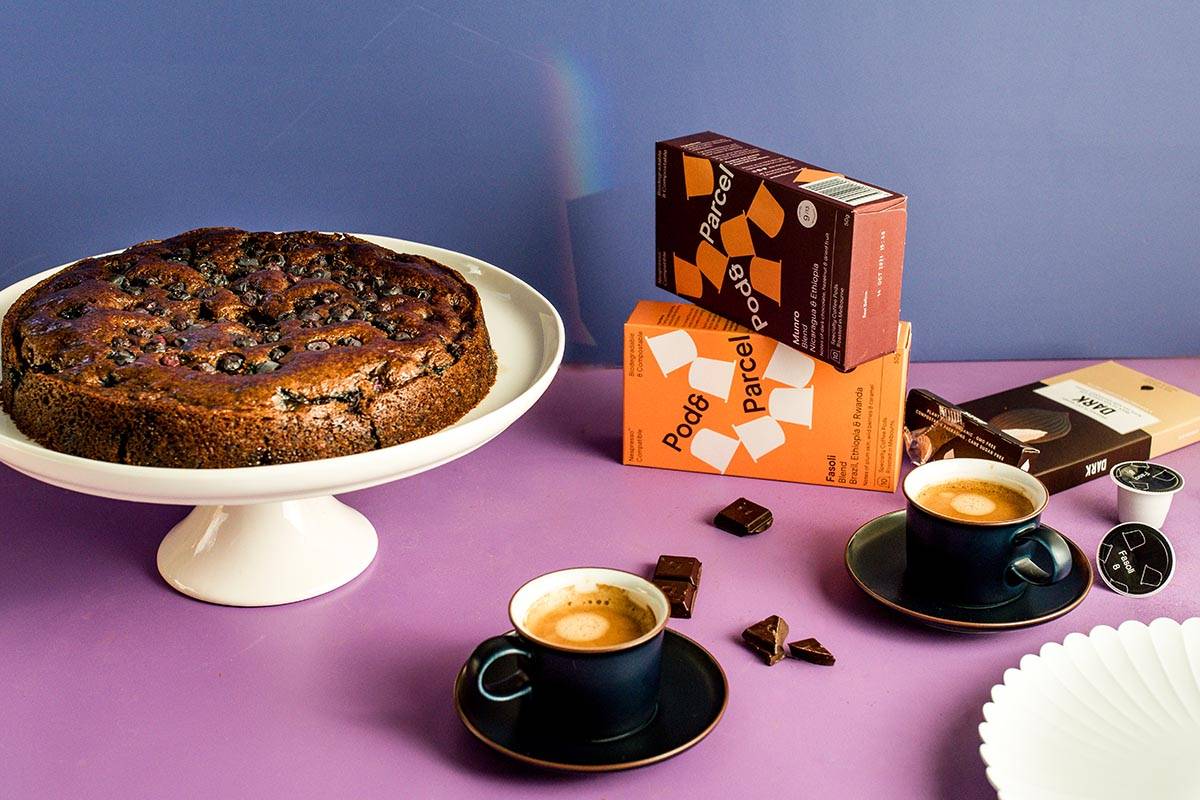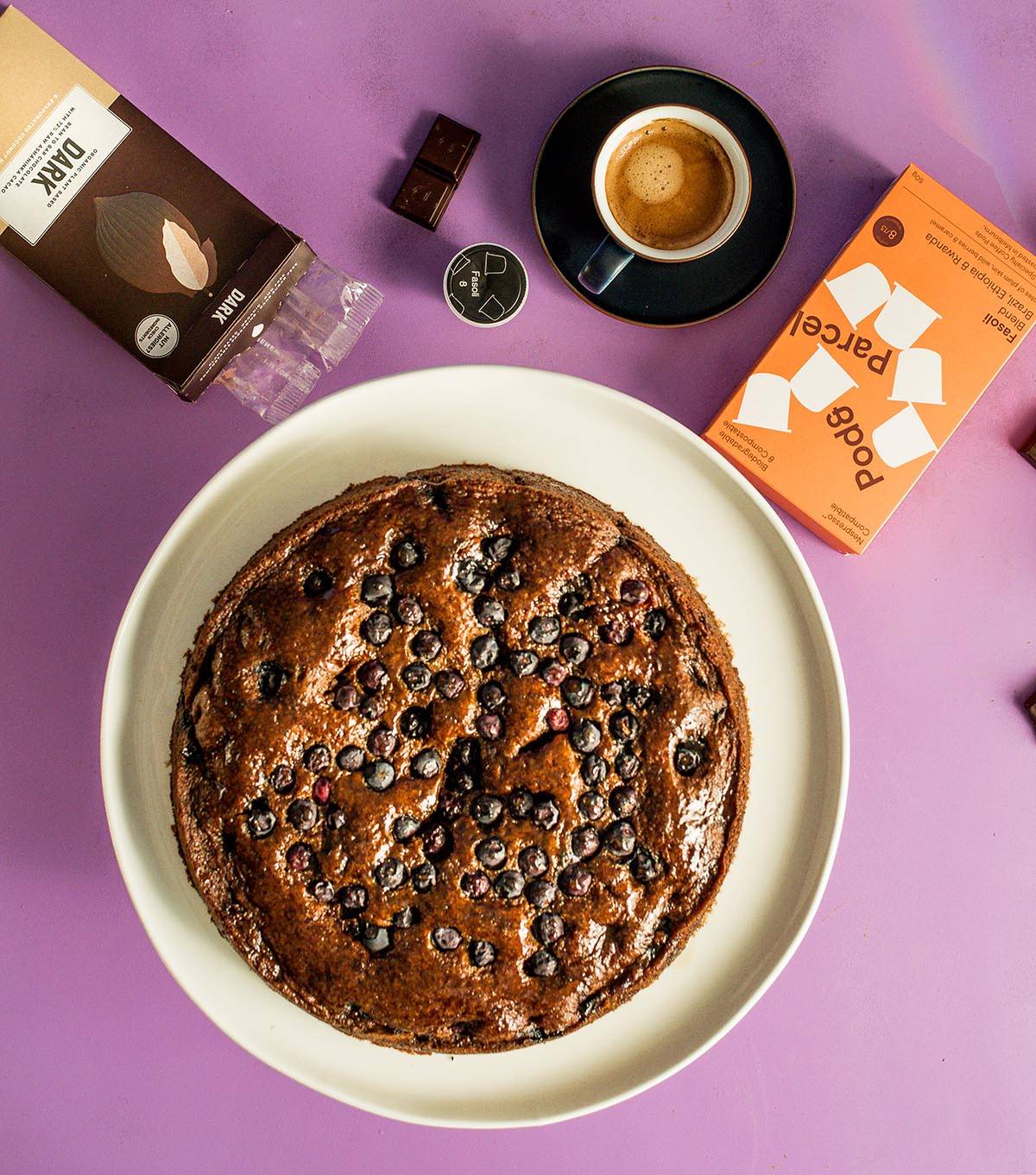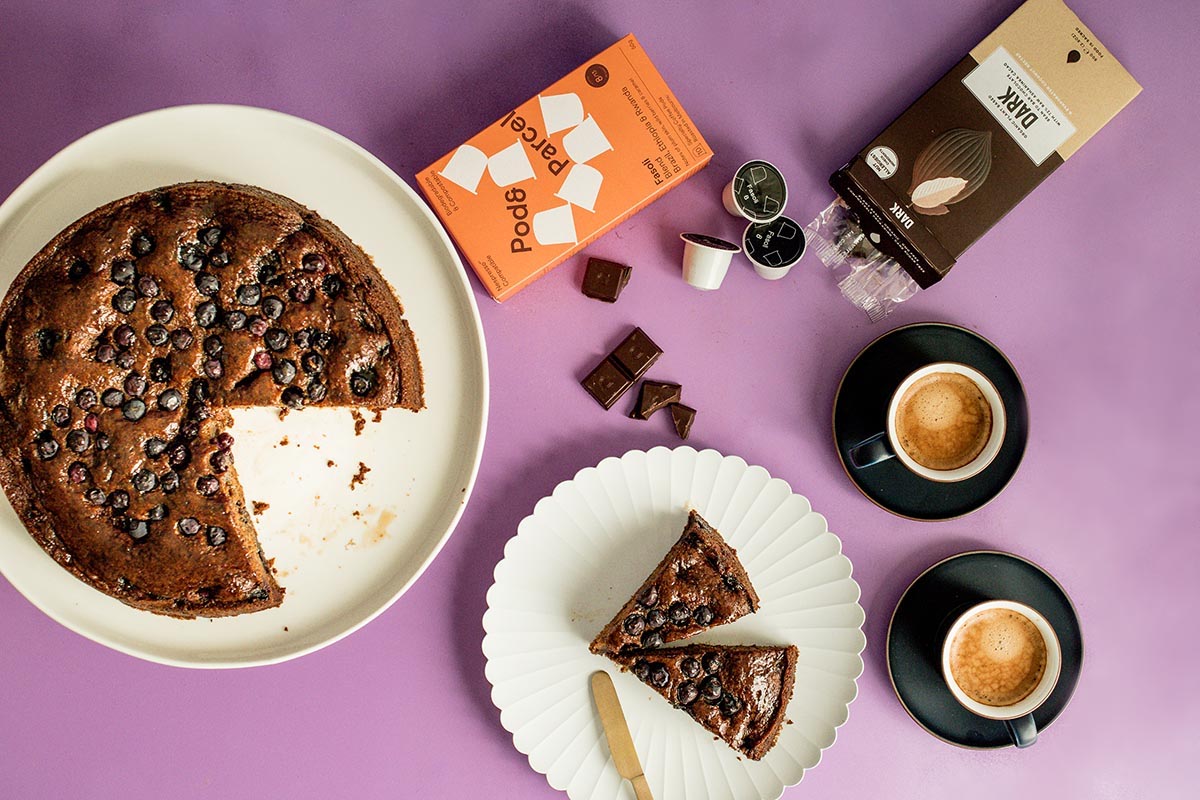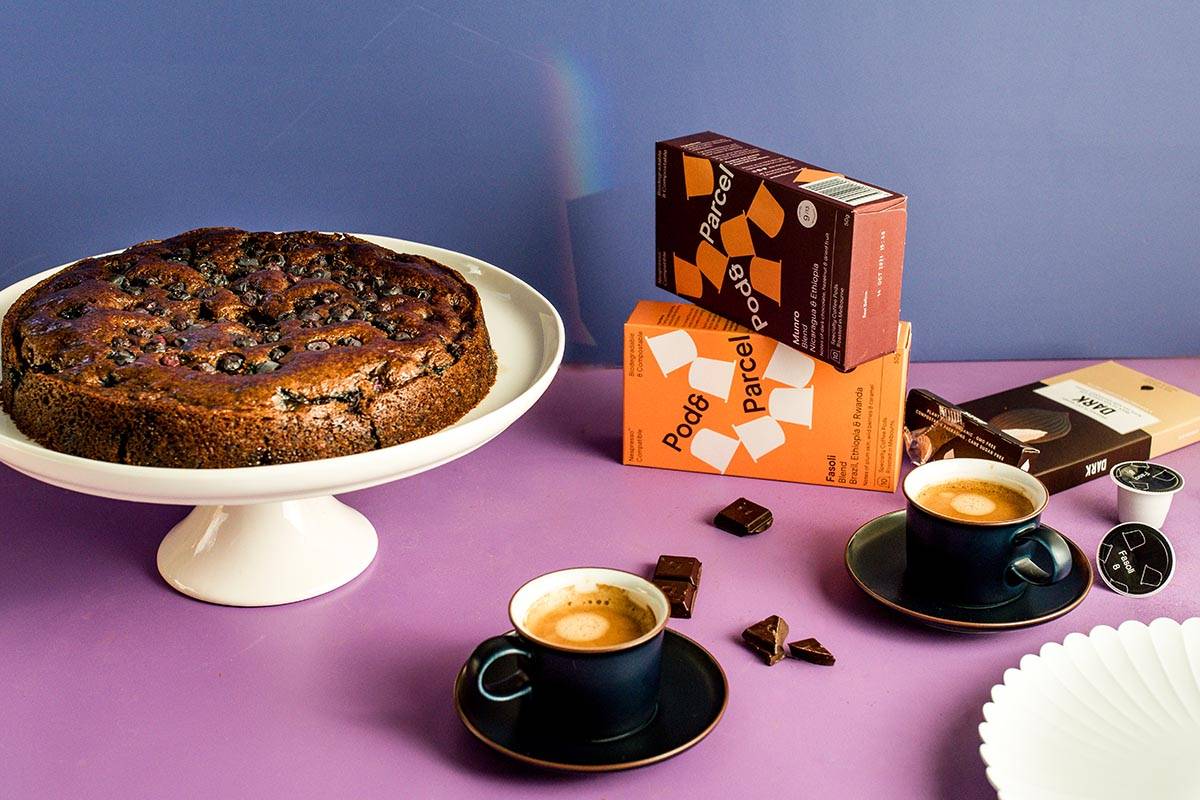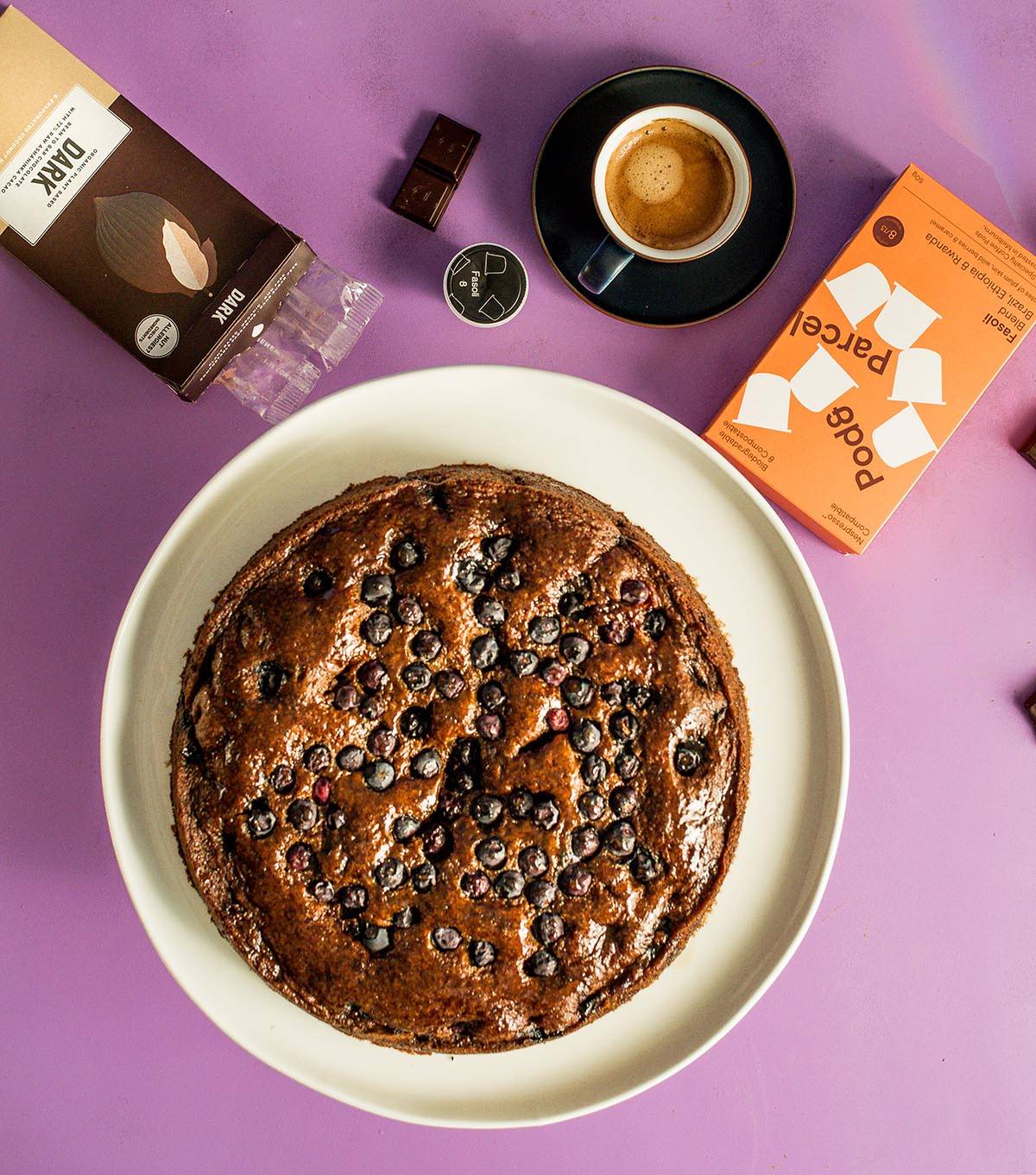 1-2 shots of Pod & Parcel's Munro coffee pods

1

tbsp. of plant-based milk of choice

½ cup Loving Earth coconut oil

Loving Earth Coconut sugar 200g

100g spelt flour

100g gluten free flour of choice
1 tsp. baking powder

1 tsp. bi-carb soda

4 chia or flax eggs

1x 80g Loving Earth Dark chocolate block, roughly chopped

2 punnet of fresh blueberries OR 1 cup of frozen blueberries

Maple syrup for light glazing
1-2 shots of Pod & Parcel's Munro coffee pods

1

tbsp. of plant-based milk of choice

½ cup Loving Earth coconut oil

Loving Earth Coconut sugar 200g

100g spelt flour

100g gluten free flour of choice
1 tsp. baking powder

1 tsp. bi-carb soda

4 chia or flax eggs

1x 80g Loving Earth Dark chocolate block, roughly chopped

2 punnet of fresh blueberries OR 1 cup of frozen blueberries

Maple syrup for light glazing
INSTRUCTIONS
Heat the oven to 180 degrees Celsius. Grease and base-line a round cake tin with non-stick baking paper. Freshly brew your Pod & Parcel Coffee Pods in your coffee machine and mix in 1 tbsp. of plant-based milk.

To make the flax egg, combine 4 tbsp. of the flax meal with 3 tbsp. of water for every tbsp. (12 tbsp. of water, in total). Set aside and let it thicken for approximately 10 minutes.

Put all the dry cake ingredients with the coffee mixture and flax eggs in a large bowl. Whisk to combine for 2 minutes until light and fluffy.

Pour half of the cake batter into the prepared tin and spread evenly. Pour the punnet of blueberries or frozen blueberries over the cake batter. Top the arranged blueberries with the remaining half of the cake batter. Neatly arrange the remaining punnet of blueberries over the cake.

Divide the mix equally between the prepared tins and bake for 25-30 minutes or until a skewer poked into the center comes out clean. Cool completely.

Once the cake has completely cooled, lightly brush the cake with the desired amount of maple syrup. Cut into slices and serve.